Date
June 20, 2019
Time
5:30 – 7:30 pm ET
Location
Reserve Cut
40 Broad Street, 2nd Floor
New York, NY 10004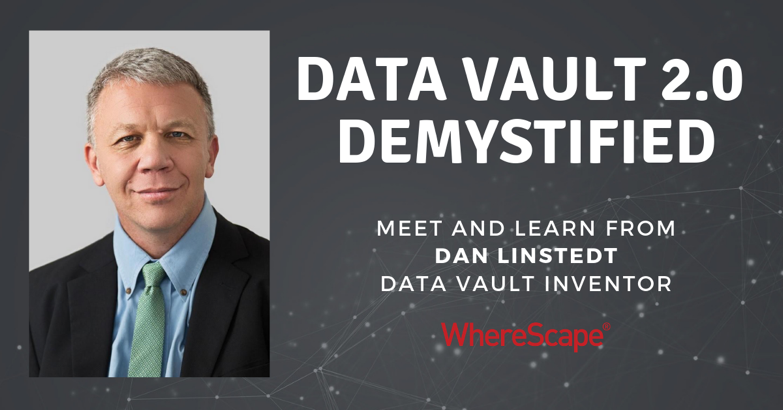 Event Details
Join WhereScape and Dan Linstedt, inventor of Data Vault 2.0, at Reserve Cut on Thursday, June 20, 2019 for Data Vault 2.0 Demystified: East Coast Tour. If you are attending DAMA Day, the event will be down the street making it easy to attend both. During this private reception, you'll meet Dan and learn why many see Data Vault as the trend of the future for Data Warehousing.
Whether you're curious to learn more about the benefits of Data Vault 2.0, or you're already using Data Vault 2.0 within your organization, do not miss this opportunity to meet and hear from Dan firsthand.
During the evening, you'll hear how Data Vault 2.0 can help your team:
Manage and enforce compliance to Sarbanes-Oxley, HIPPA, and BASIL II in your Enterprise Data Warehouse
Spot business problems that were never visible previously
Rapidly reduce business cycle time for implementing changes
Merge new business units into the organization rapidly
Achieve rapid ROI and delivery of information to new Star Schemas
Consolidate disparate data stores, tackling Master Data Management
Implement and deploy Service-Oriented Architecture fast
Scale efficiently to hundreds of Terabytes or Petabytes
Reach SEI CMM Level 5 compliance (repeatable, consistent, redundant architecture)
More easily trace all of your data back to the source system
You'll also hear how data vault automation is helping organizations begin to reap the benefits of Data Vault 2.0 more quickly and make its adoption a practical reality.
Please complete the form below to register for this free event:
*If you are unable to see the form below, you may need to review your tracking protection and/or JavaScript settings