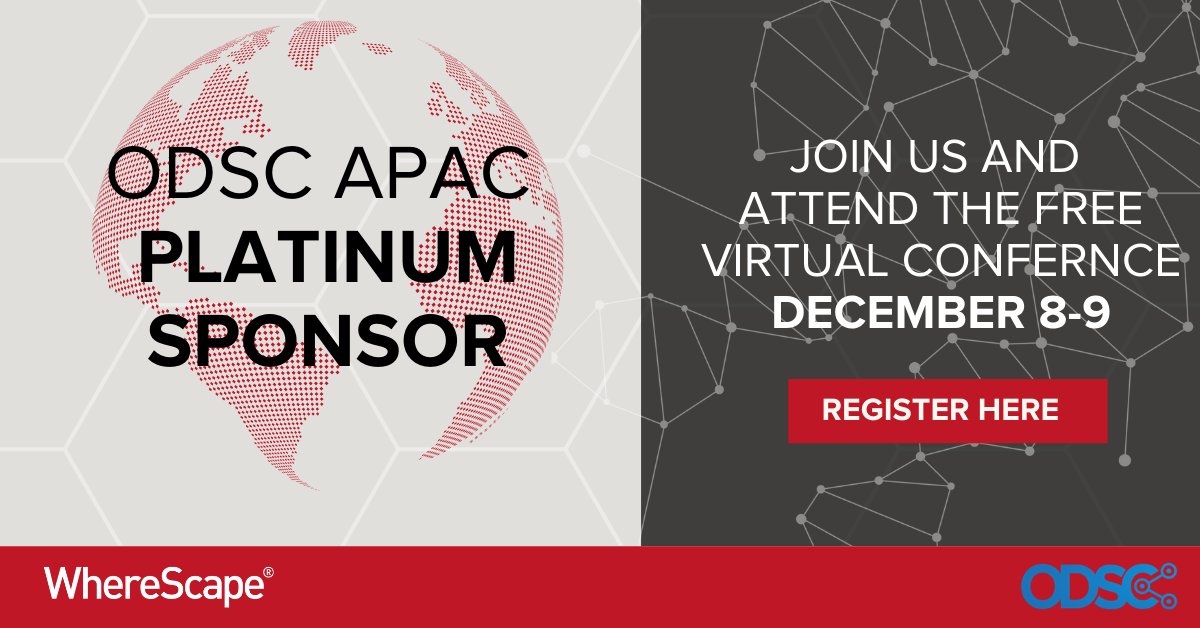 Date
December 9th, 2020
Location
Asia & Pacific (online)
Event Details
ODSC APAC Virtual Conference is one of the largest applied data science conferences in the world, with 50 speakers, 20 breakout sessions and 20 workshops. Speakers include core contributors to many open source libraries and languages. Attend ODSC APAC Virtual Conference 2020 and learn the latest AI & data science topics, tools, and languages from some of the best and brightest minds in the field.
WhereScape Activity
We have great presentations on Data Automation at the following times and locations:
A. Track Keynote (December 9, 10:00 AM - 11:30 AM SGT): How to Maximize Business Value from Data Science
This session describes two key processes that every company needs to master to extract competitive advantage from its data science investment and a demonstration of the Data Warehouse Automation technology that can drive the results you need.
How should Data Science teams maximize their effort on Data Science?

The more Data Science teams add value using data science to create actionable insight and ultimately revenue the greater their value to the business. In order to do this, they need to play to their strengths and avoid being distracted by other data activities and a positive side effect of this is they'll get more job satisfaction.

How should Data Science teams minimize the time to availability of data?

Access to data is key, and the gap from ideation and hypothesis to availability needs to be minimized. The reality is that most companies still take weeks and months to produce the right data from disparate sources and are constantly firefighting complex dependencies with outdated methodologies.

How does Data Warehouse Automation accelerate this journey?


With more data and more ways to access that data than we've ever had; Data Warehouse Automation offers something special: the power of scale.
B. Tutorial (December 9, 11:35 AM - 1:05 PM SGT): Why You need Data Warehouse Automation Now More Than Ever
In organizations where data drives important strategic changes, the effective design, build, and documentation of complex data ecosystems is more critical today than ever before.
Teams that combine the gains provided by data automation and cloud computing see tremendous leaps in agility and productivity. 
During this virtual tour of the WhereScape Data Automation ecosystem you will see how to:
Save time, money, and resource on data projects

Enable individual developers to do the work of many

Roll out standardized procedures using best-practice templates
C. Talk (December 9, 1:10 PM - 1:35 PM SGT): How Does Data Automation Change Working Lives? 
Technology is not meant to replace humans but to augment the way we work. Productivity and the business' bottom line remain the priority, but while technology is advancing rapidly, our understanding of workplace happiness and work/life balance is only just starting to catch up. We are beginning to understand that working smart is more valuable than working long hours at a low level, as the repetition and longevity of manual techniques often lead to burnout and human error.
Data Automation is a prime example of how technology not only increases our output but also changes our approach to the traditional working day. It can be the catalyst not only for quicker, more accurate BI, but for a holistic transformation of our working lives.