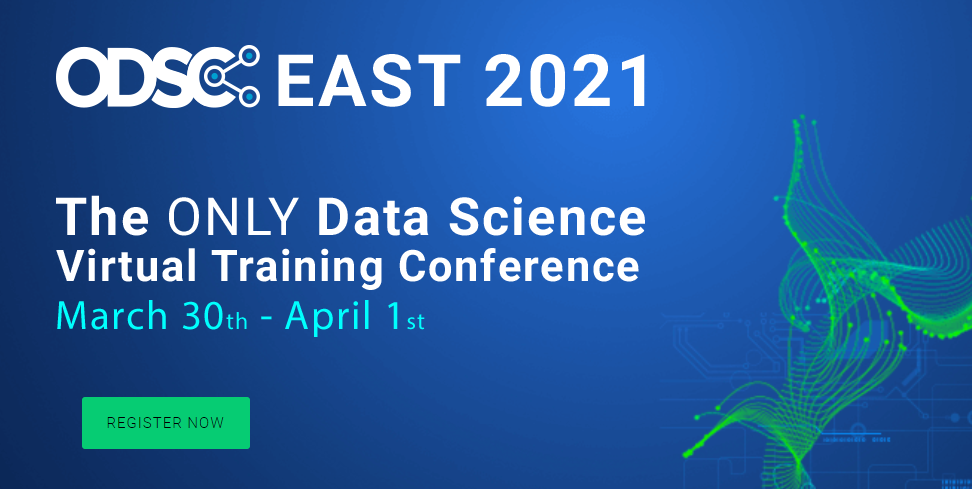 Date
March 30 - April 1, 2021
Location
Boston, USA (online)
Event Details
8 Focus Areas. 3 Days. One Data Science Conference.
The largest applied data science conference is now 3 days, including mini bootcamp days, 2 full training days, and 2 talks/workshops days. You get even more talks, training, and workshops spread over 8 focus areas. Accelerate your data science knowledge, training, and network all in one event.
Click here for registration and more information.
WhereScape Activity
How to Maximize Business Value from Data Science by Simon Asplen-Taylor
(
3:10 PM
 - 
3:55 PM, Wednesday 31st March)
This session describes three key processes that every company needs to master to extract competitive advantage from its data science investment and a demonstration of the Data Warehouse Automation technology that can drive the results you need.
How Does Data Automation Change Working Lives? by Torgil Hellman, Atea (3:00 -3:25 PM, Wednesday 31st March)
Technology is not meant to replace humans but to augment the way we work. Productivity and the business' bottom line remain the priority, but while technology is advancing rapidly, our understanding of workplace happiness and work/life balance is only just starting to catch up. Data Automation is a prime example of how technology not only increases our output but also changes our approach to the traditional working day. It can be the catalyst not only for quicker, more accurate BI, but for a holistic transformation of our working lives.