Date
PLEASE NOTE NEW DATE: 12:30 BST, Thursday November 1st, 2018
Location
Balcony Room, The Swan, 21 New Globe Walk, Bankside, London SE1 9DT (next to the Globe theatre on the Southbank).
Event Details
Join us for a hands-on technical session, in which you will learn how to build an automated data warehouse on Exasol's in-memory database.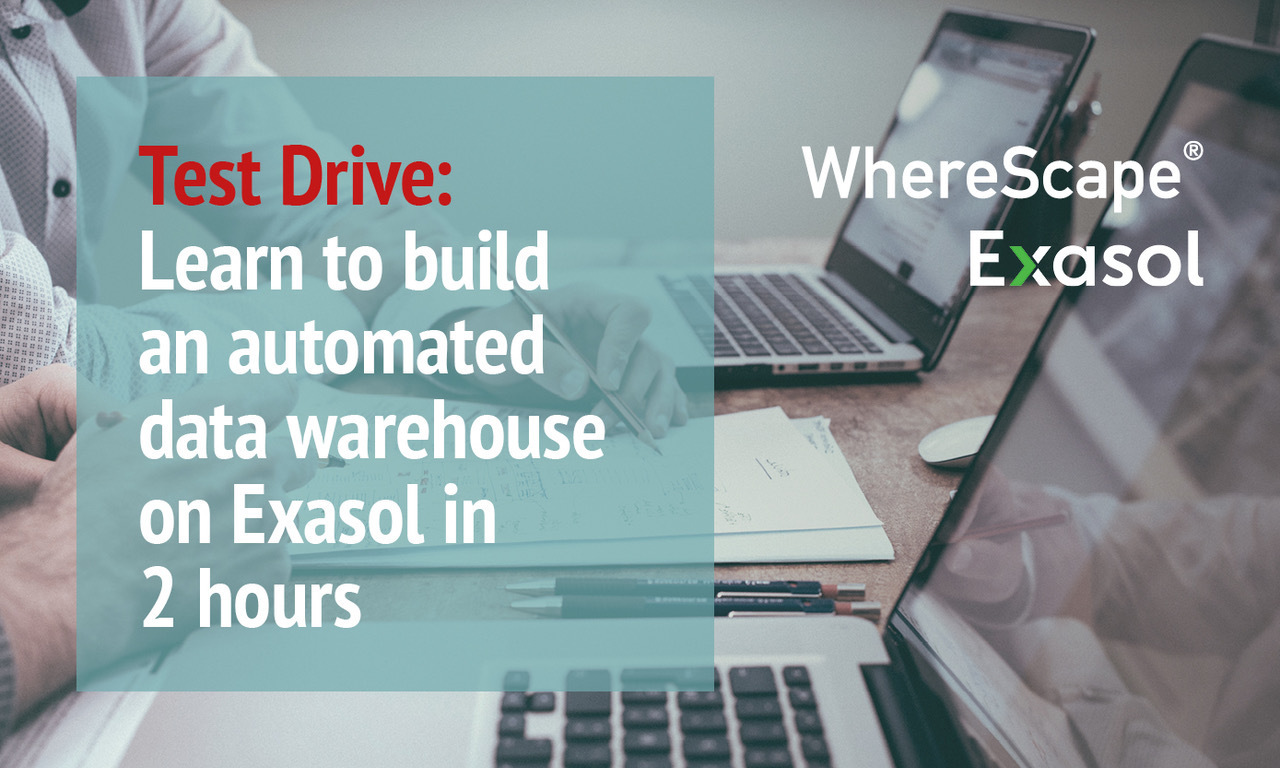 Agenda
12:30 – Registration and light lunch
13:00 – Introduction
13:10 – Keynote: Data warehouse automation
13:30 – Keynote: In-memory analytics
13:50 – Break
14:00 – Technical Test Drive session 1
14:45 – Break
15:00 – Technical Test Drive session 2
16:00 – Drinks and networking
What Will I Learn?
You will learn how to automate the design, build and management of your data infrastructure, allowing you work faster with less resource. Once you have used automation to quickly extract data from a variety of disparate sources, you will witness the speed of Exasol's in-memory database for the transformation stage of the ELT process. Exasol is the fastest database on earth.
See how WhereScape allows you to build, change and operate your data warehouse via a drag-and-drop GUI, auto-generate the corresponding code and deploy it on Exasol's in-memory database using ELT.
This agile approach removes human error and the need for hand coding, enabling you to benefit from Exasol's rapid in-memory analytics faster, with less resource.
The session will show you:
How data automation works and how it will change your working life
The advantages of using Exasol's in-memory database
Why to use ELT not ETL, and how to make the transition
Who Should Attend?
Techies who want to learn about building an automated data warehouse on Exasol
WhereScape users who want to learn more about in-memory analytics
Exasol users who want to learn more about saving time and resources with data automation
Who's Organizing?
WhereScape helps IT organizations of all sizes leverage automation to design, develop, deploy, and operate data infrastructure faster. More than 700 customers worldwide rely on WhereScape automation to eliminate hand-coding and other repetitive, time-intensive aspects of IT projects to deliver data warehouses, vaults, lakes and marts in less time.
Exasol is passionate about empowering companies to put fast analytics at the heart of their data ecosystems. Backed up by first-class expertise, the company develops the world's fastest and most feature-rich in-memory database that enables businesses across the globe to deploy powerful and agile data analytics platforms that drive data-driven decision-making and business success – without limits.
Please complete the form below to register for the event