Date
Date 10th June
Time
11:00 CET
Event Details
Join this webinar to see a thrilling race against the clock. Can Director Enterprise Solutions EMEA at WhereScape, Frederik Naessens, get a fully-functional Data Vault up and running in 30 minutes armed with just a Data Automation tool and his Belgian sense of humour?! This will be his first attempt, so don't miss out!
Learn how to:
Prototype data models before building commences
Automate code generation to build complex Data Vault architectures
Generate full documentation with just one click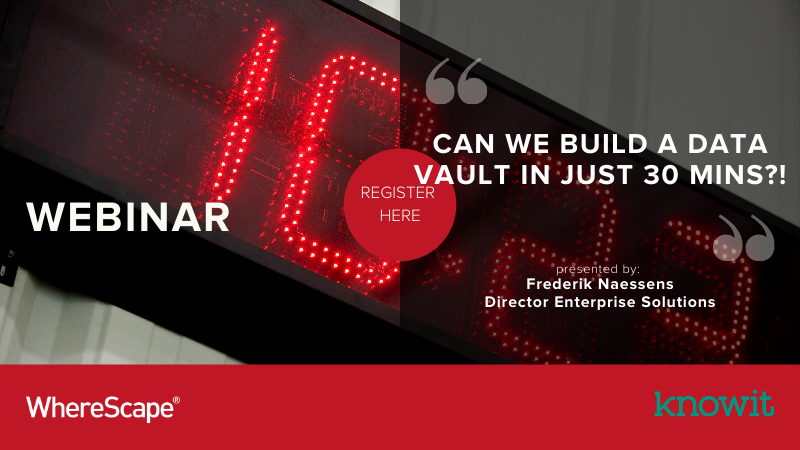 Benefits of Data Vault 2.0
Rapid time to value with automation
Rapid change to value with automation
Merge new business units into the organization quickly
Consolidate disparate data sources
Trace data back to the source system
Scale to hundreds of terabytes or petabytes
Frederik will be using WhereScape Data Vault Express, which dramatically cuts the time it takes to develop Data Vault-based analysis solutions. It shortens the Data Vault 2.0 learning curve through built-in automation, wizards, patterns, and templates. This can lead to delivery of Data Vault-based solutions in hours, and days as opposed to months, and years.
Data Vault Express also reduces the risk of failure by getting your project to production faster with higher quality and data consistency. WhereScape does this through automating the design, development, deployment and operation of enterprise Data Vaults, including hubs, satellites, and
links.
Agenda
11:00 Introduction to Data Automation
11:10 Introduction to WhereScape Data Vault Express
11:20 Can we build a Data Vault in just 30 minutes?
11:50 Q&A
12:00 Ends
This webinar is co-hosted by our Nordic implementation partner, Knowit.