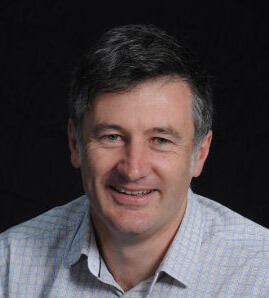 Name: Michael Whitehead
 Job title: CEO
 Company: WhereScape
 Industry: Software
 Location: New Zealand (or Air New Zealand)
 Years' of experience: 20
What is your favourite personal gadget? 
My watch – it tells me the time. Not my Fitbit (that also tells me the time), not my Garmin running watch, and not my iPhone – but my analogue watch.
Do you have a favourite piece of personal software? 
I like to have a game going all the time. It is often Sudoku, but I am always partial to a good tower game.
What was the first piece of technology you got really excited about? 
GPS car navigation. It blew my mind! No more printing out MapQuest directions, no more getting in the wrong lane, and no more taking forever to get back to the only route you knew. 
What device improves your life most at work?
I dropped my MacBook Air for a Surface Pro and never looked back. My busy travelling schedule means that I need a device that is light and easy to carry, and the Surface Pro not only has these qualities, but can be used as a tablet, which is very beneficial when I am on a plane. It also runs Office apps, along with Google Drive meaning that I can be productive no matter where I am.
What software keeps you most productive at work? 
Getitdone (app and website). I tell my team if I don't do something straight away and they didn't see me put it into Getitdone then it is not going to happen. They now stand over me until I type it in.
Is there any technology that has become extinct that you would like to resurrect?
The Apple Newton. I really wanted one and I really wanted it to recognise my handwriting. I had to make do with a Palm Pilot a few years later but I feel cheated that I never did get a device to read my writing – especially since most people can't.
Is there any technology you would personally recommend that you don't think enough people know about? (Hardware or software, work or personal)
The Seatguru app is a really simple way to improve your travelling experience. All you have to do is enter your flight details and seat number, and it shows you whether you accidentally booked that middle seat for a 15 hour flight. TripAdvisor bought it, and I can see why!
Do you think anything about your personal use of tech would surprise your colleagues? 
That I only wear two devices that monitor heart rate and count steps, and that I am not as high on Pokémon Go as they assume I would be.