WhereScape® automation for Snowflake honored in The Cloud Awards for the second consecutive year
 
HOUSTON - Dec. 23, 2019 - WhereScape, the leading provider in data infrastructure automation software, today announced that WhereScape has been named a finalist in the international Cloud Computing Awards program, The Cloud Awards. WhereScape received the recognition within the "Best Cloud Automation Solution" category for its WhereScape® automation for Snowflake offering.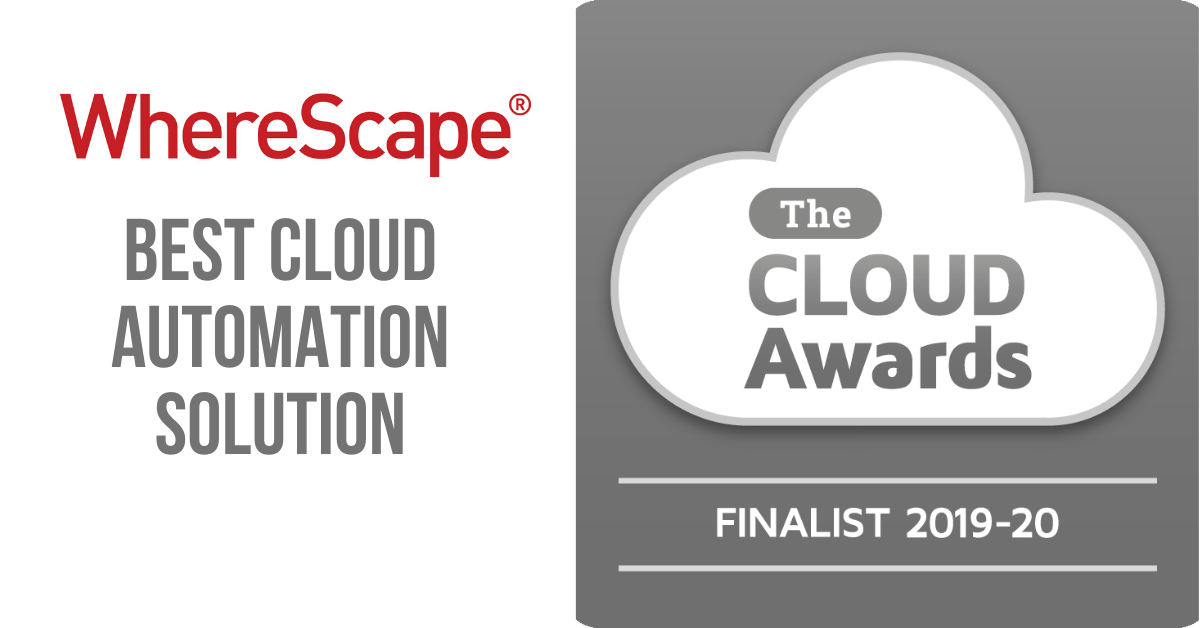 Built to fully leverage Snowflake, WhereScape automation for Snowflake automates data warehousing workflow based on native Snowflake functions, wizards and data warehousing best practices. Built-in capabilities additionally give data warehousing teams the ability to implement a variety of data modeling approaches such as 3NF, dimensional and Data Vault 2.0. Going one step further, WhereScape Migration Express for Snowflake provides out-of-the-box functionality to automate and fast-track migrations of existing data and data infrastructure to Snowflake from legacy platforms in use, including Greenplum, Microsoft SQL Server, Netezza, Oracle, Teradata, Vertica and others.
"As more organizations turn to the cloud, IT teams find it imperative to make the journey to the cloud as quick, easy and cost-effective as possible. Automation enables companies to reap all of the benefits of their cloud investments much sooner," said Rob Mellor, vice president and general manager of EMEA, WhereScape. "We're honored to have WhereScape automation for Snowflake once again recognized as a 'Best Cloud Automation Solution' by the Cloud Awards. Industry recognition like this further validates the everyday value that hundreds of our customers around the globe experience when putting automation to work."
"We're recognizing WhereScape in its pursuit of adopting and pioneering lead cloud technologies in order to deliver outstanding client success. With its WhereScape automation for Snowflake offering, WhereScape is a deserving finalist in the Cloud Awards program for a second year in a row," said Head of Operations for the Cloud Awards James Williams. 
Beyond WhereScape automation for Snowflake, WhereScape offers data infrastructure automation for a wide array of popular target data platforms including Amazon Redshift, Apache Kafka, Exasol, Microsoft SQL Server, Microsoft Azure, Oracle, Teradata and more. Learn more about how WhereScape automation helps IT teams to deliver data warehouses, vaults, lakes and marts faster by visiting www.wherescape.com.
View the full shortlist of 2019-2020 Cloud Awards finalists here: https://www.cloud-awards.com/cloud-computing-awards/
About WhereScape:
WhereScape helps IT organizations of all sizes leverage automation to design, develop, deploy, and operate data infrastructure faster. More than 700 customers worldwide rely on WhereScape automation to eliminate hand-coding and other repetitive, time-intensive aspects of data infrastructure projects to deliver data warehouses, vaults, lakes and marts in days or weeks rather than in months or years.
About the Cloud Awards
The Cloud Awards is an international program which recognizes and honors industry leaders, innovators and organizational transformation in cloud computing. The awards are open to large, small, established and start-up organizations from across the entire globe, with an aim to find and celebrate the pioneers who will shape the future of the Cloud as we move into 2020 and beyond. The Cloud Awards currently offers two awards programs, the Cloud Computing Awards and the Software-as-a-Service Awards.
Categories for the Cloud Computing Awards include Most Promising Start-Up, Best SaaS, and "Best in Mobile" Cloud Solution. Finalists were selected by a judging panel of international industry experts. For more information about the Cloud Awards, please visit https://www.cloud-awards.com/. 
Contact Details
Touchdown PR
Jessica Luhrman
(512) 373-8500
[email protected]