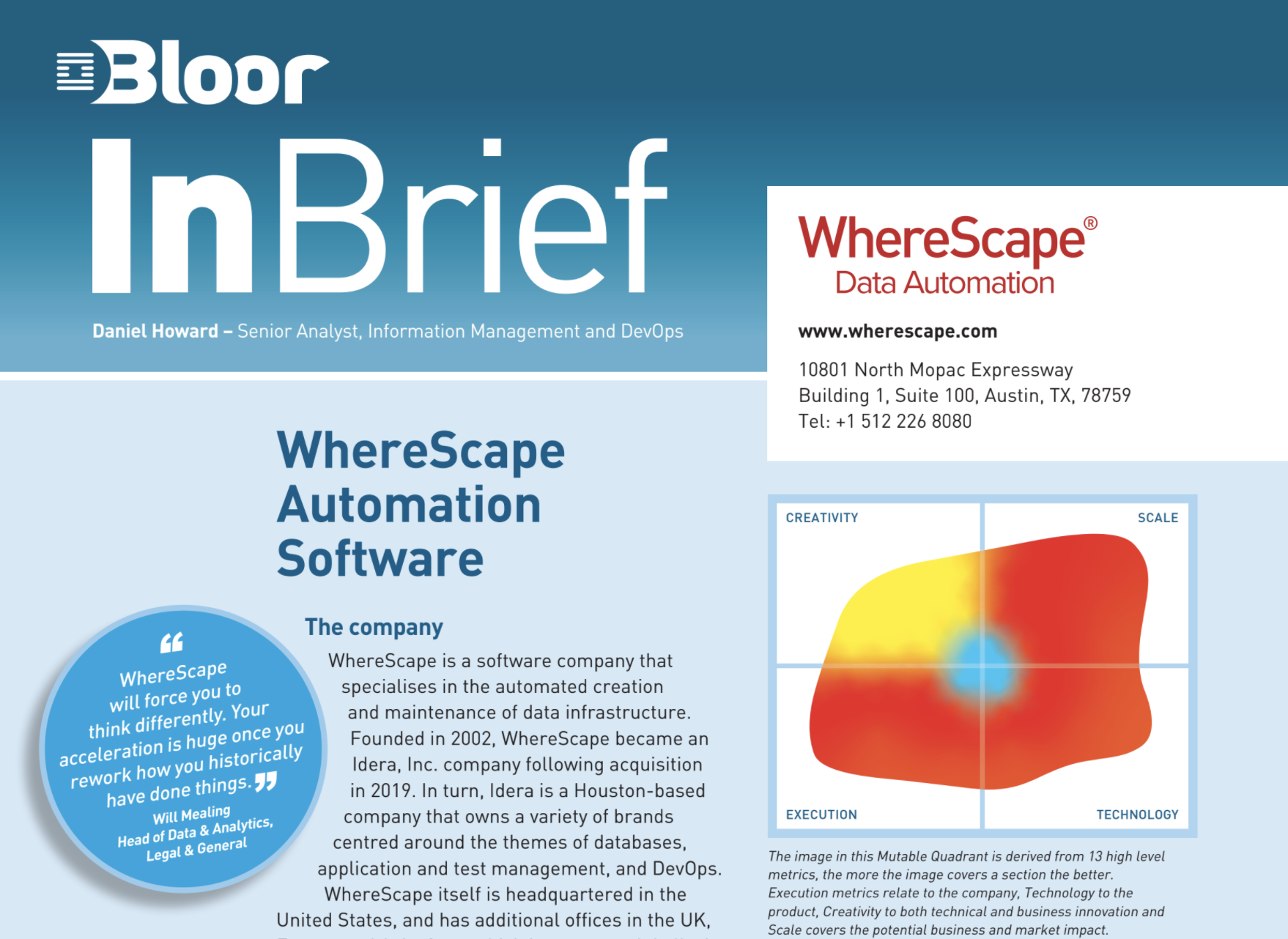 The Bloor InBrief is a review of a technology company given by an independent analyst from Bloor Research. Bloor provides actionable strategic insight through innovative independent technology research. It assists companies throughout their transformation journeys to stay relevant, bringing fresh thinking to complex business situations.
The InBrief features a Mutable Quadrant, which indicates WhereScape's proficiency for creativity, scale, execution and technology, and gives scores out of five stars for:
Architecture
Change management
Discovery and ingestion
Ease of use
Governance
Integration
Here is a short excerpt from the report on WhereScape written by Daniel Howard – Senior Analyst, Information Management and DevOps. To download the full report, fill in the form below.
"WhereScape, taken in its totality, allows you to profile and discover data within your data sources as well as design a data model for use in
your data target. Metadata created by the former processes can then be fed through the latter to generate SQL code, and corresponding scripts (in, say, Python), that can then be executed to automatically create, populate, and maintain your desired data model.
"This process is fundamentally metadata-driven: it does not touch the data itself, but instead leverages your metadata to build and manage your data warehouse infrastructure. When your metadata changes, WhereScape can generate scripts that will update your data infrastructure accordingly, thus keeping everything up to date. This code generation (and execution) can also be scheduled, either within WhereScape or using a third-party scheduler, which goes a long way toward automating your maintenance processes in particular."
To read more, download the full Bloor InBrief report by filling in this form: