From on premises to Snowflake Cloud Data Warehouse

Data Automation Accelerates Time to Value with Data Vault
 Aptus Health needed a way to centralize its data, while achieving greater scale, ability and cost effectiveness.
Download this case study and see how they:
Replaced legacy, on-premises data warehouse and data silos with cloud-based data vault

Had their first data vault design in for Snowflake in three days

Delivered first production release of cloud-based data vault in three months
Enter your details to receive your PDF
Aptus Health created its first Data Vault 2.0 model within three days and released its first data vault into production within three months.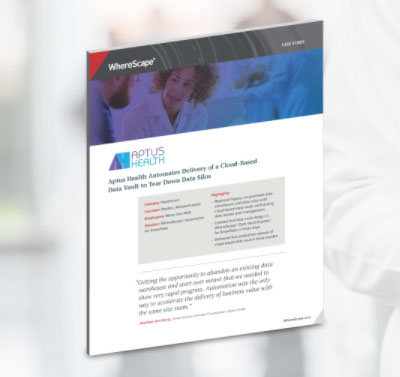 "As software developers, we are often so busy delivering value for the business that we overlook ways to deliver value to ourselves. Through automation, we've increased our productivity tremendously, and WhereScape has been a great partner for us."
Register above to read more about Aptus Health's experience with Data Warehouse Automation.
2019 Datanami Readers' and Editors' Choice Awards
Datanami is pleased to announce the results of its fourth annual Readers' and Editors' Choice Awards, which recognizes the companies, products, and projects that have made a difference in the big data community this year. These awards, which are nominated and voted on by Datanami readers, give us insight into the state of the community.
WhereScape Named 2019-2020 Best Cloud Automation Finalist
HOUSTON – Dec. 23, 2019 – WhereScape, the leading provider in data infrastructure automation software, today announced that WhereScape has been named a finalist in the international Cloud Computing Awards program, The Cloud Awards. WhereScape received the recognition within the "Best Cloud Automation Solution" category for its WhereScape® automation for Snowflake offering.