Data Warehouse Automation
A data warehouse is a way to provide business analysts and other users with a centralized repository of enterprise data from which to glean insights that guide business decisions.
What is Data Warehouse Automation?
Data warehouse automation (DWA) helps IT teams deliver and manage much more than before, much faster, with less project risk and at a lower cost by eliminating repetitive design, development, deployment and operational tasks within the data warehouse lifecycle.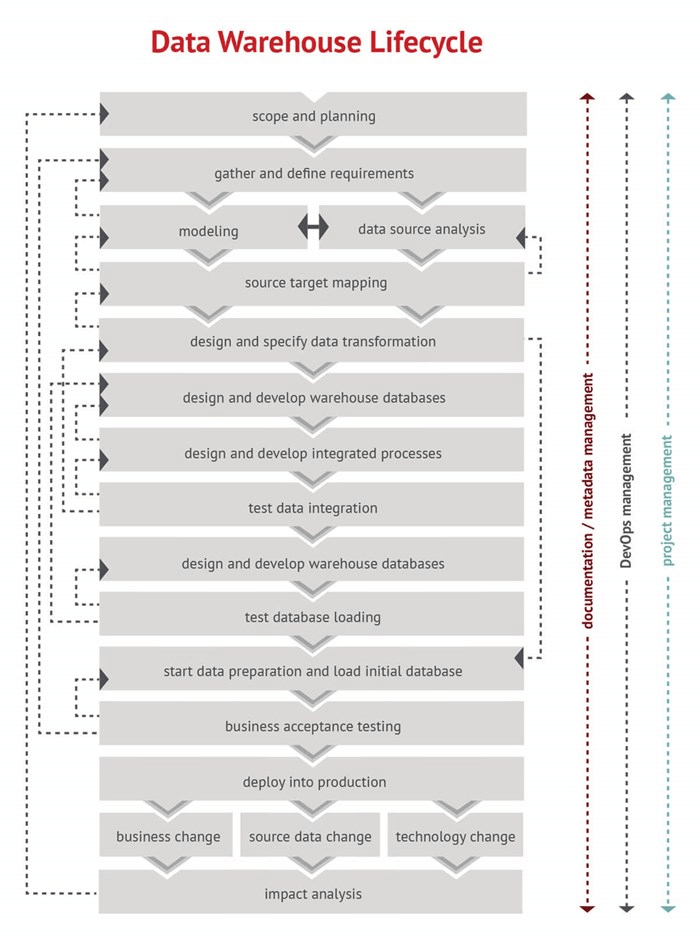 The Data Warehouse Institute (TDWI) defines data warehouse automation as:
"…using technology to gain efficiencies and improve effectiveness in data warehousing processes. Data warehouse automation is much more than simply automating the development process. It encompasses all of the core processes of data warehousing including design, development, testing, deployment, operations, impact analysis, and change management."
With automated data warehousing, IT teams can fast-track new data integration, more effectively work with big data, and devote greater time to the business intelligence initiatives that will yield the greatest impact for their organizations.
Data Warehouse Automation Tool
Eliminate hand-coding and other repetitive, time-intensive tasks to fast-track big data integration and data management projects. Boost developer productivity and improve collaboration with the business.
Data Warehouse Automation Benefits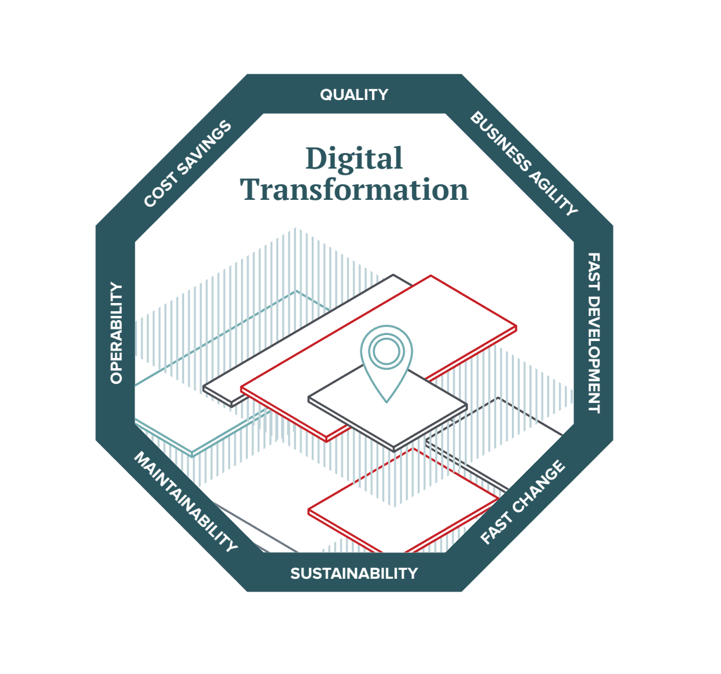 Data warehouse automation provides data warehousing teams with a wide range of benefits commonly associated with digital transformation as seen in the diagram above.
Increase Productivity
Data warehouse automation has been credited with boosting developer productivity by fivefold. With the ability to automate as much as 80 percent of the data warehouse lifecycle, IT teams can more quickly deliver data warehouses, as well as more easily adapt existing data warehouses as business needs change.
Reduce the Learning Curve
When designed for a specific data platform, or data warehouse software, data warehouse automation can also greatly reduce the learning curve associated with implementing a new data platform within an organization. Whereas traditionally developers hand-coding projects would need deep knowledge of many aspects of the new platform, data warehouse automation specifically designed for the platform can mask much of the complexity working behind the scenes.
Standardize Best Practices
Data warehouse automation solutions have also been credited with providing organizations with the best practices standardization that can easily be lacking when working with a variation in development approaches, methodology understanding and other staffing characteristics. Thorough documentation is also a valuable takeaway for organizations using data warehouse automation, and often a luxury for those who are not.
Get Ready for
Data Warehouse Automation
Learn more about what data warehouse automation is and evaluate if your organization is ready and able to be successful in its adoption. Download this data warehouse automation readiness guide.
The Impact of Data Warehouse Automation
Listen to industry analysts and consultants provide their insights into the impact of data warehouse automation on data infrastructure projects.
Torgil Hellman – Atea Customer Case Study
Video
Torgil shares his perspective on the evolution of data warehouse automation within the enterprise
Claudia Imhoff – Founder, Intelligent Solutions
Video
Claudia discusses the impact of data warehouse automation on development.
Ron Powell – Powell Interactive Media
Video
Ron details the value of big data.
Data Warehouse Automation Readiness Guide
Industry Expert David Weels shares what you need to know about data warehouse automation
Wayne Eckerson on Automation
Learn how a metadata-driven approach to data warehouse development enables automation and big gains.
Modernization Research Summary
Benchmark your organization's efforts against EMA's industry research findings on IT modernization initiatives.
Delta Community Credit Union Experiences 300% ROI
A small team uses automation to deliver a new enterprise data warehouse fast.
Data Warehouse Automation Readiness Guide
Learn how automation answers big data integration needs.
Dave Wells on Time to Value
Hear why automating data to reduce the time to value is critical for innovation and competitive advantage.
Data Warehouse Automation vs ETL/ELT
Review this guide to understand how ETL and ELT tools differ from data warehouse automation.
Automation Readiness Checklist
Use this checklist to gauge if your organization may be ready for data warehouse automation.