Accelerating Data Warehouse Development
 Best practices and tool automation for faster business consumption of analytics.
TDWI recently ran a new survey about accelerating data warehouse development. The survey asked respondents about their organizations' current and future practices for data warehouse development.
This report drills into survey responses that illuminate key areas for the acceleration of data warehouse (DW) development:
• Drivers for the acceleration of DW development
• The importance of accelerating DW development
• Forms of data warehouse automation and acceleration
• Best practices accelerating DW development
• Final thoughts and recommendations
Enter your details to receive your PDF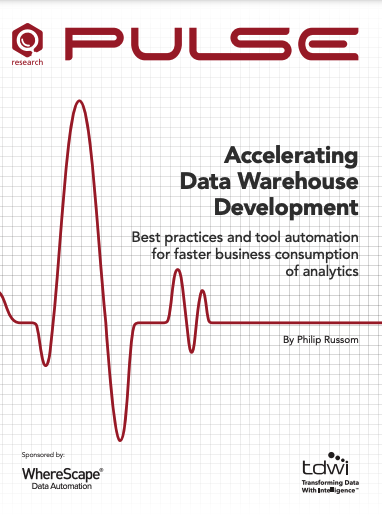 About the Author
PHILIP RUSSOM, Ph.D., is senior director of TDWI Research for data management and is a well-known figure in data warehousing, integration, and quality. He has published more than 600 research reports, magazine articles, opinion columns, and speeches over a 20-year period. Before joining TDWI in 2005, Russom was an industry analyst covering data management at Forrester Research and Giga Information Group. He also ran his own business as an independent industry analyst and consultant, was a contributing editor with leading IT magazines, and a product manager at database vendors. His Ph.D. is from Yale. You can reach him at [email protected], @prussom on Twitter, and on LinkedIn at linkedin.com/in/philiprussom.