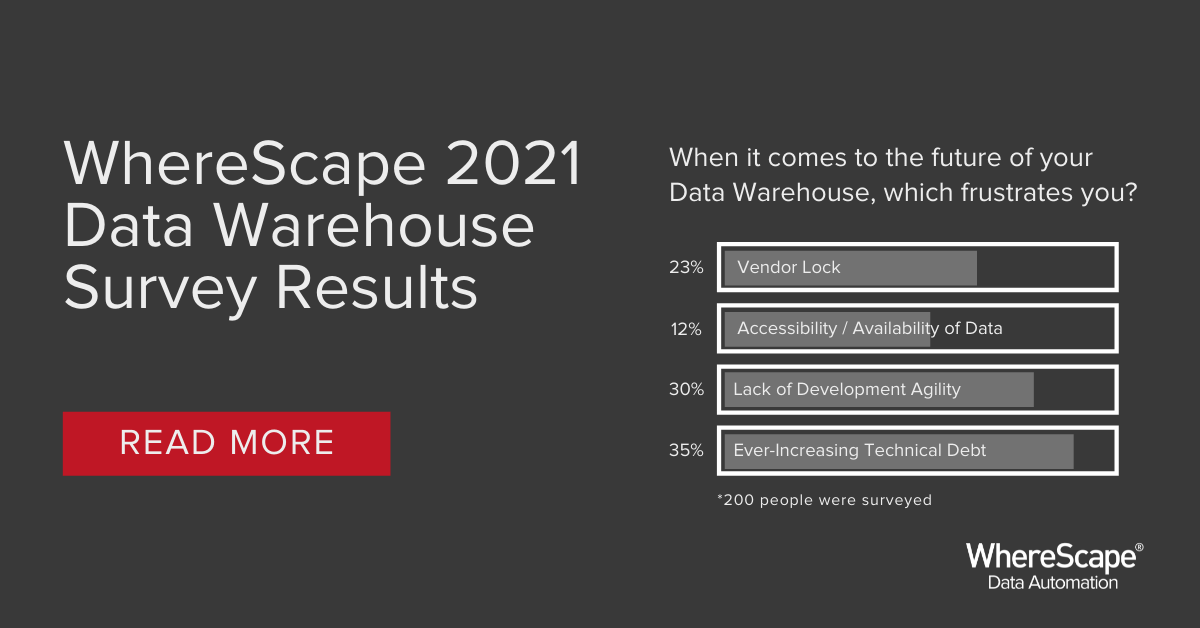 We asked data warehousing professionals the following question, which we feel gives insight into the pain points of data teams today:
When it comes to the future of your data warehouse, which frustrates you?
Ever-increasing technical debt

35%

Vendor lock

23%

Accessibility/availability

12%

Lack of development agility

30% 
Of 200 people surveyed, technical debt and a lack of agility accounted for 65% of the responses.
This is no surprise to us at WhereScape, as we meet many data professionals whose companies expect the data infrastructure that digital native companies enjoy while trusting legacy development tools to do the job. Often, these companies choose to use WhereScape tools to automate code production, enabling each developer to do the job of ten by managing the production of code, rather than having to write every single line. 
WhereScape enables developers to design data infrastructure with a drag-and-drop GUI. They can then physicalize the model in WhereScape RED, which writes thousands of lines of SQL code in seconds, without human error. By making this and various other repetitive tasks no longer necessary, projects can be finished quicker, without the technical debt that hand-coding projects with ETL tools can produce.
As every action on WhereScape is logged, full documentation can be produced at the touch of a button, including lineage. This saves an arduous task that is often left until last, rushed, or not done at all.
With fewer manual tasks to commit, data teams can spend less time at a green screen and more time collaborating with the business, working in shorter iterations. This and a fully automated infrastructure mean that change requests and bug fixes can be spotted and solved faster. The ability to spin up "quick and dirty" prototypes in minutes gives a visual point of reference for data professionals to discuss with the business, so requirements can be met precisely and first time without the ambiguity that written requirements can create.
WhereScape also enables data teams to grow faster to meet business demands, because new hires do not need a full understanding of the code at all stages of the projects. They can learn how to use WhereScape, start contributing to the team right away and learn other skills on the job. This is what we saw at our customer Ethias, an insurance company in Belgium. "We started to make the team bigger and bigger. At the beginning we were four, and now we are 18 on the data team, with 15 using WhereScape. If you know SQL, you can be integrated into the team in a few weeks. That's an advantage of WhereScape – the scalability."
An automated infrastructure also means that migrating platforms is much easier, and many of the repetitive migration tasks can be automated too. This might be a move to the cloud, or to a different on-premise platform. It means your choice of platform is no longer a ten-year decision. With the speed at which cloud data platforms such as Snowflake or GCP are developing, companies need to be able to capitalize on future advances as soon it suits business demands.
Ethias said: "WhereScape enables us to work a lot faster. With other tools, we lost the client during the implementation part. It's like if you want a new car, you want it in two weeks not two months. Before it took months; the customer is waiting and you lose their confidence. Now we can keep the confidence all the way. It's a good combination – Agile, close to the customer, and the tool can keep this going."
For more details on what WhereScape has to offer and how we are rated by independent analysts, read this InBrief report from Bloor Research.