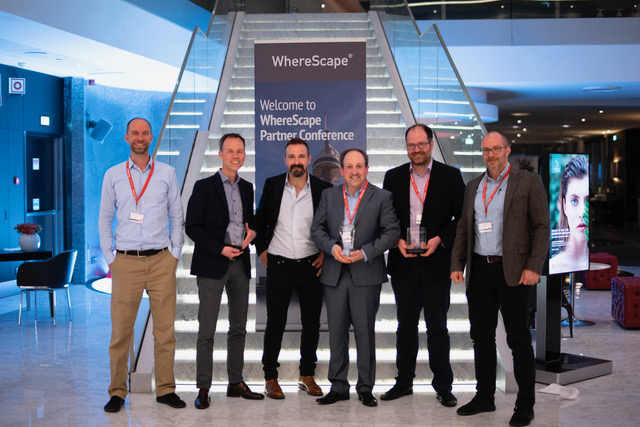 At our inaugural Partner Summit, in Lisbon last night, we at WhereScape recognized the partners that uphold our ethos across the EMEA region and have contributed most to our commercial success.
Closing deals is the end goal of every successful company of course, but at WhereScape we pay close attention to the journey there and the people that shape it. We want the way we do business to be reflected throughout our partner network, building relationships with companies that we fully trust to represent us across EMEA.
Some partners just get it. We know they have the technical knowledge and attitude to evangelize the capabilities of our software just as well as we do ourselves. This could be through delivering a flawless proof of concept, or by taking prospects out for dinner when other companies might have clocked off at five.
Partner of the Year: IT-Logix
Based in Switzerland, IT-Logix has consistently delivered results since quickly getting up to speed with our messaging and way of working four years ago. The award was collected by CEO Samuel Rentsch.
One aspect of the way IT-Logix works we particularly like is their faith in WhereScape software. After evaluating us against other Data Automation providers, the company decided that WhereScape is their sole tool of choice for modernizing data ecosystems. If a client chooses IT-Logix they also choose WhereScape, and this approach is why the partnership has been so successful.
Our relationship with IT-Logix has produced a steady stream of deals across a variety of verticals such as manufacturing, finance and sport, and we can now rely on the company to contribute to our sales targets year on year.
Award for Technical Excellence: Michael Olschimke, Scalefree
Michael is the CEO of Scalefree, a Data Vault 2.0 consultant across Europe, based in Hannover. At WhereScape we have seen a huge spike of interest in Data Vault modeling over the past year, as data teams look to add agility to complex data warehouse environments. Michael has been vital in identifying the right architectures for prospects, and using WhereScape to expedite the implementation of Data Vault initiatives.
We see Michael and Scalefree as important allies as we look to increase the number of companies we help to shorten time to value of Data Vault initiatives. In our opinion, Michael is a master in his chosen field.
Award for Customer Success: Jaap Franse, Systemation
The five years since we partnered with Systemation have seen the Netherlands emerge as our most forward-thinking region in terms of automation-led data modernization. Jaap Franse, Systemation owner and director, has facilitated this outlook by effectively relaying the WhereScape message across his territory and ensuring our joint customers have the exact solutions they need to become truly data-driven.
Award for Commercial Excellence: Jens Wintzer, Knowit
On the commercial side, Jens was chosen because of his influence in Sweden with Knowit, a key partner of ours in the Nordics. Once the techies have proven that WhereScape is the best software to modernize a prospect's data ecosystem, we rely on partner sales teams across EMEA to maintain our 84% conversion rate from the proof of concept stage.
Although Jens is predominately a sales guys, he is proactive in organizing comarketing events with us. Following a successful series of WhereScape Test Drive events across the Nordics last year, our two companies joined forces at the Data Innovation Summit in Stockholm in March and followed that up with a Data Vault Test Drive at Knowit's offices. Events like these give Jens fresh leads from which to close even more business, making sure he's in with a shout of retaining this award next year!